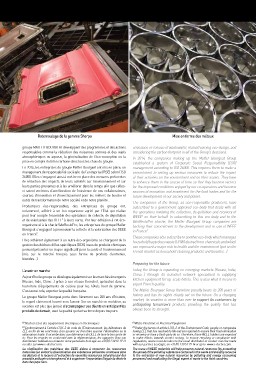 Rotomoulage de la gamme Sherpa                            Mise en forme des métaux

           groupe MATFER BOURGEAT développent des programmes et des actions   emissions or release of wastewater, mainstreaming eco-design, and
           responsables comme la réduction des nuisances sonores et des rejets   considering the carbon footprint in all of the Group's decisions.
           atmosphériques ou aqueux, la généralisation de l'éco-conception ou la   In  2014,  the  companies  making  up  the  Matfer  Bourgeat  Group
           prise en compte du bilan carbone dans tous les choix du groupe.  established a system of Corporate Social Responsibility (CSR)
           En 2014, les entreprises du groupe Matfer Bourgeat ont mis en place, un   management according to ISO 26000. This requires them to make a
           management de responsabilité sociétale  de l'entreprise (RSE) selon l'ISO   commitment to setting up serious measures to reduce the impact
           26000. Elles s'engagent ainsi à mettre en place des mesures pertinentes   of their activities on the environment and on their assets. They have
           de réduction des impacts de leurs activités sur l'environnement et sur   to enhance them in the course of time so that they become vectors
           leurs parties prenantes et à les améliorer dans le temps afin que celles-  for the improved conditions enjoyed by our co-operators and become
           ci soient vectrices d'amélioration de l'existence de nos collaborateurs,   sources of innovation and investment for the food trades and for the
           sources d'innovation et d'investissement pour les métiers de bouche et   future development of our society and planet.
           outils de transformation de notre société et de notre planète.  The companies of the Group, as eco-responsible producers, have
           Producteurs  éco-responsables,  des  entreprises  du  groupe  ont,   subscribed to a government approved eco-body that deals with all
           notamment, adhéré à un éco-organisme agréé par l'État qui réalise   the operations involving the collection, de-pollution and recovery of
           pour leur compte l'ensemble des opérations de collecte, de dépollution   WEEE  on their behalf. In subscribing to this eco-body and to the
                                                              1
                            1
           et de valorisation des DEEE  à leurs noms. Par leur adhésion à cet éco-  ValoRestoPro  charter,  the  Matfer  Bourgeat  Group  companies  are
           organisme et à la charte ValoRestoPro, les entreprises du groupe Matfer   backing their commitment to the development and re-use of WEEE
           Bourgeat s'engagent à promouvoir la collecte et la valorisation des DEEE   in France .
                                                                2
           en France . 2                                  These companies also subscribe to another eco-body which manages
           Elles adhèrent également à un autre éco-organisme se chargeant de la   household hazardous waste (HHW) derived from chemicals and which
           gestion des déchets diffus spécifiques (DDS) issus de produits chimiques   can represent a major risk to health and the environment (put on the
           pouvant présenter un risque significatif pour la santé et l'environnement   French market as household cleaning products and biocides...).
           (mis sur le marché français sous forme de produits d'entretien,
           biocides...).
                                                          Preparing for the future
           L'avenir en marche                             Today, the Group is expanding on emerging markets (Russia, India,
           Aujourd'hui le groupe se développe également sur les marchés émergents   China...)  through  its  Eurochef  network  specialised  in  supplying
                                                          kitchen equipment for up-scale hotels. This is also what it means to
           (Russie, Inde, Chine…) grâce à son réseau Eurochef, spécialisé dans la   export French quality.
           fourniture d'équipements de cuisine pour les hôtels haut de gamme.
           C'est aussi cela, exporter la qualité française.  The Matfer Bourgeat Group therefore proudly bears its 200 years of
           Le groupe Matfer Bourgeat porte donc fièrement ses 200 ans d'histoire,   history and has its sights clearly set on the future. On a changing
                                                          market, its vocation is more than ever to support its customers by
           le regard clairement tourné vers l'avenir. Sur un marché en mutation, sa
           vocation est plus que jamais d'accompagner ses clients en anticipant les   anticipating tomorrow's products providing the quality that has
           produits de demain, avec la qualité qui fait sa force depuis toujours.  always been its strength.

           (1)  Déchets issus des équipements électriques et électroniques   (1)  Waste Electronic or Electrical Equipment
           (2)  Conformément à l'article L541-2 du code de l'Environnement, les détenteurs de   (2)  Under the terms of article L541-2 of the Environment Code, people or companies
           EEE en fin de vie sont tenus d'en assurer ou d'en faire assurer l'élimination ou la   having EEE that has reached its life end are required to ensure their final elimination
           valorisation finale. Il incombe donc aux détenteurs de DEEE de faire le bon geste de   or recovery or have a third-party do so. Therefore, these WEEE holders are expected
           tri. Pour les recycler en conformité avec la réglementation, les rapporter chez son   to make efforts towards correct sorting. To ensure recycling in compliance with
           distributeur habituel ou contacter notre partenaire EcoLogic au +33 (0) 1 30 57 79 14   regulations, waste must be taken to the usual distributor or contact must be made
           ou aller sur www.e-dechet.com.                 with our partner, EcoLogic, on +33 (0) 1 30 57 79 14 or go to  www.e-dechet.com.
           La réutilisation des matériaux des DEEE aidera à conserver les ressources   The reuse of WEEE materials will help preserve natural resources (by preventing
           naturelles (en évitant la dissémination des substances polluantes contenues dans   the spread of the polluting substances contained in the waste and avoiding recourse
           les déchets et le recours à l'extraction de nouvelles ressources naturelles par des   to the extraction of new natural resources by polluting and energy consuming
           procédés polluants et énergivores) et à supprimer l'exportation illégale de déchets   processes) and eradicating the illegal export of waste to the third countries.
           dans des pays tiers.